This page requires Macromedia Flash Player 7 or higher and Javascript.
Download the latest Flash Player
here
History
History 1996, a magic year…Denniz started buying his first records. While he was clubbing he heard music he wanted to play at home. There was just one problem…the tracks he wanted to buy after hearing them in the clubs appeared only on vinyl. After buying his first records it didn't take long before the first used turn-tables were bought, together with a mixer. Now he could mix his own music and a passion was born.
Denniz had a dream of a real DJ career, but no actual plans. The dream became reality in 1999 when the organisation Kriti Vibes asked him to play on a pre-festival party on a beach in Crete. Kriti Vibes were so enthusiastic about Denniz' performance, that they offered him another gig at the main festival. During this main event he not only played the first hour, but without any experience Denniz played prime time. They asked him to take over the spinning table from his hero Erick E. In front of 8000 people and the rolling cameras of MTV. You can imagine that this experience gave him the vibe he needed to make his dream come true, a DJ career!
Nowadays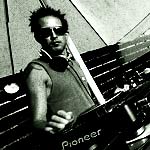 When he returned to Holland, Denniz realised that organising parties was a good way to promote his sound and skills. So he started a brand new concept named GrooveXpress in Nighttown Theatre. The specialty of this new concept lay in combining his music with live artists such as sax players, percussion players and vocalists. As a result, they offered him a resident DJ spot in Club Las Palmas. This club became winner of the best Dutch club award in 2003. To get a good impression of a regular clubnight at Club Las Palmas, watch the video by clicking on Productions and the Love flyer. Unfortunately the club had to close its doors in 2005. Meanwhile a lot of organisations want Denniz to play at their parties all over Holland. This resulted in gigs at Extrema Outdoor, FFWD Dance Parade and Sneakerz to name a few. At the end of 2006 Denniz was asked to play as resident DJ for all Hed Kandi events in the brand new Club Vie in Rotterdam. Nowadays Club Vie is the hotspot and the most succesfull club in the city.
Some of his most impressive experiences were the Must parties which are exclusive parties at impressive and special locations, for example a big church in Rotterdam. Another highlight is one of his latest gigs at new years eve 2006, when he played in Club Vie before Roger Sanchez who took over the spinning weels at 0.00. You can find a video of both gigs at the highlights item.
Residencies 2008
Club Vie Rotterdam


In just a couple of months after the opening Club Vie became the hotspot and place to be in Rotterdam. Denniz is playing as a resident DJ on the Saturday nights called Heart. If you want to hear real house music come and visit one of these parties! You can find more information about Club Vie at www.clubvie.com
Crunc Agency
Crunc Agency is one of the upcoming new agencies in the Dutch scene. Because they give very succesfull own parties to promote their DJ's and MC's, this is an agency he loves to work for. This is the main reason why Denniz decided to join this agency. You can find more about Crunc agency and the other Crunc DJ's at www.cruncagency.com
Music Style
Denniz's style can be best described as; soulful, sexy, groovy, uplifting and pumping real house music! During his sets he's focused to give the people on the dancefloor a spectacular party! The kind of music he plays depend on location, theme of the party, the people who are present, and the time he has to play. So Denniz is a DJ who always have a good feel for the right party atmosphere. This is his strong quality which makes him very useful for every party organisation. Since the transition from turntables to Pioneer CD1000's and the new DJM800 Pioneer mixer Denniz is able to give his sets even more energy by using lots of acapella's and effects.

Producing
In 2002 Denniz produced his first record "Deep" with the very talented producer René Amesz who can be called a big name in the scene these days. This record entered the Dutch dance charts at the 12th position as hottest new release. In 2003 a cooperation with producer Fred Henderson resulted in his second production "Reachin" on the same label Star Traxx.
Together with Fred Henderson, Denniz completed two other smashing productions in which even the English label Azuli seemed to be interested. At this moment Denniz is working on new tracks with different Dutch producers. The track used as background in the video is one of the latest. This track is produced with Bryan Dalton, one of the most promising new dutch talents...keep an eye on him!! After playing a short demo of this track at a party and seeing the enthusiastic reaction on the dancefloor, the expectations are very high for this one!!
Denniz played at:

Residencies
1999-2001 - 2 yrs Hollywood Music Hall, Rotterdam (every friday & saturday)
2001-2003 - 2 yrs Scanners, Dordrecht (every saturday)
2003-2005 - 2 yrs Club Las Palmas, Rotterdam (saturdays)
2005-2006 - 1 yrs Thalia Lounge, Rotterdam (saturdays)
2005-2007 - 3 yrs BED Hotel Arena, Amsterdam (every first saturday of the month)
2006-2007 - 1 yrs Club Vie, Rotterdam (saturdays)
Festivals/events/clubs
Kriti Vibes (Crete) for 8.000 people with Erick E
Impulz 2001, talent room
Boulevard of Dance 2002 in Dordrecht for 6.000 people
Boulevard of Dance 2003 in Dordrecht for 10.000 people
Koninginnedance 2004 in Rotterdam
Extrema Outdoor 2004, Las Palmas area
Extrema Outdoor 2005, with GrooveXpress
Extrema Solar Weekend 2006, with GrooveXpress
FFWD Dance Parade 2003, truck Beats Included
FFWD Dance Parade 2004, truck Las Palmas
FFWD Dance Parade 2005, truck BED
Dancevalley 2006, MTV truck
Escape Amsterdam, Framebusters/Tilt
Powerzone Amsterdam, Gloss/Superstars/Fierce Angels
De Rechter Eindhoven, BED/Sneakerz/Housequake
Club Vie Rotterdam, Hed Kandi
Hotel Arena Amsterdam, BED/Vonk/Wanted Now
DJ Café SOL Amsterdam, HOT
Panama Amsterdam, Funk'd/Full Effect/Go Crunc
Hemkade Zaandam, DNA party/S.O.S
Las Palmas Rotterdam, Love/Retro Mania/Starz/Extrema
Off Corso Rotterdam, Transcendence/In My House/BED
Now&Wow Rotterdam, Asian party
Prinses Theater Rotterdam, Metz on Sunday/Funk'd
Thalia Lounge Rotterdam, Addictive/Cleo/Spank'd
Nighttown Rotterdam, Deja Vu
Maassilo Rotterdam, Bad Boy Bill Worldtour
Parkzicht Rotterdam, resident on saturday
Euromast Rotterdam, 2004/2005 New Years Eve
DMW Rotterdam, resident on saturdays
De Loft Rotterdam, Into the Groove/GrooveXpress
Nightlive Maastricht, Lust for Life
Club Silly's The Hague, Kapsones
't Paard The Hague, BED
Monza Utrecht, Supersunday/Planet House
Zebra Lounge Amsterdam, Soigné
Club Noir Utrecht, Sweet Saturday
BLM9 Bloemendaal, Freakend
Club Noa Leeuwarden, BED/Go Crunc
Denniz played with:
Roger Sanchez, Eddie Amador, Ian Carey, Bad Boy Bill,
Rob Wilder, Paul Wilkins, John Jones, Phil Faversham, Soul Avengerz, Roog, Erick E, Fedde le Grand, Lucien Foort, Gene Farris, Benny Rodrigues, Gregor Salto, Sebastien Leger, D-Rashid...
to name a few...